How to resolve the "Bad Request/Error 400" problem on Wesconnect.
Update, Dec. 12
This problem occurs because of links containing special characters. It appears to affect Mozilla Browsers (e.g. Firefox). To resolve the problem you need to delete the __utmz cookie that is set for the wesconnect.wesleyan.edu domain.
Instructions
To delete the cookie that is causing the problem, navigate to the following setting:
On a Mac: Firefox > Preferences > Privacy > Show Cookies
Windows PC: Firefox > Options > Privacy > Show Cookies
These screenshots show how to filter for "wesconnect" cookies in Firefox on Mac and PC (click for larger version).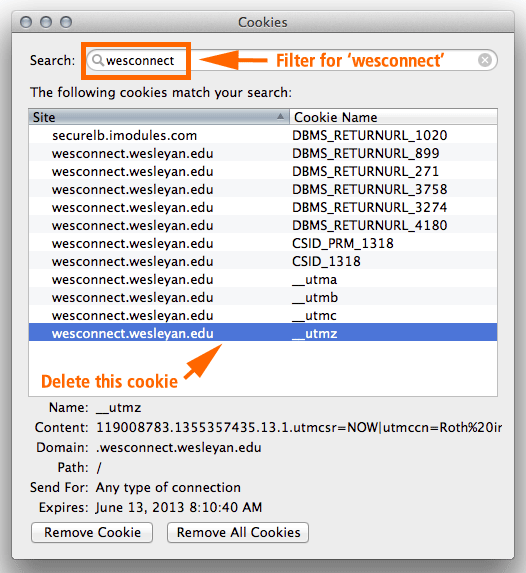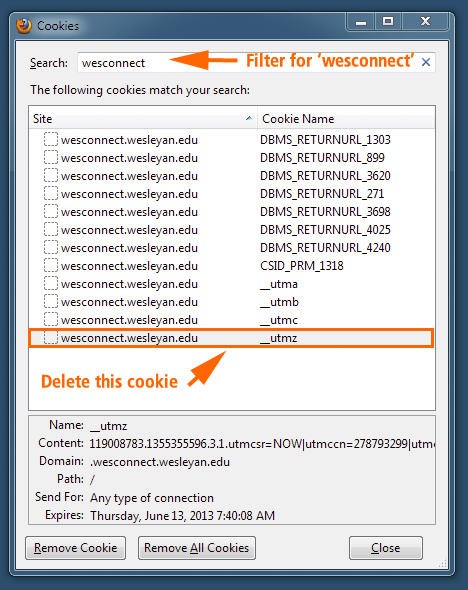 Details
The special character that caused the problem was an "en" dash in the e-mail subject line for a recent NOW on Wesconnect email. Unfortunately, the problem persists (i.e. you cannot view any Wesconnect pages) until the cookie is deleted. We apologize for the inconvenience and are taking steps to prevent this from reoccurring.
Our thanks to all who reported the issue and helped us to diagnose the problem.
Need help?
Please get in touch if you would like help to resolve this problem, or if you have any questions.
---
Update, Dec. 3
This problem appears to be related to cookies in Mozilla Browsers (e.g. Firefox). See below for a workaround, and please get in touch with your findings as it will help us to locate the exact cause.
Some readers of Wesconnect and the NOW on Wesconnect email newsletter are reporting Bad Request/Error 400 messages when clicking on links. If you are experiencing this problem please let us know by answering these questions. It will help us to track down the source of the problem.
Please submit a support request with your answers. Thanks for your help, and thanks for reading!
Feedback
| Browser | Email client | OS | View in browser? | Bypass? |
| --- | --- | --- | --- | --- |
| Firefox 16.0.2 | Thunderbird 12.0.1 | Mac OS X 10.7.5 | works but links on this page give same error | |
| Firefox 16.0.2 | Outlook 2010 | Windows 7 Enterprise SP1 | | same error |
| Firefox 1.5 | | Mac OS | | same error |
| Camino 2.1 |  Mail.app | Mac OS X 10.8.2 | | same error |
Workaround
It seems that clearing cookies will fix this problem for most users (how to clear cookies). If you would like to clear only the cookies related to Wesconnect (instead of removing all of your browser's cookies) then filter cookies for "wesleyan" and "imodules" and delete only those. We are still trying to determine exactly which cookies are causing the problem, but we currently suspect Google Analytics cookies __utmb, __utmz and __utma.
Any information you can share will be extremely helpful, so please let us know if this works for you.