You might have subscribed to on-campus mailing for the events calendar while you were a student. Follow these instructions to modify your preferences or unsubscribe from these emails.
You might receive an automated, customized email with the subject line "Custom Events Calendar" in your inbox. You'll need to sign up for the alumni portfolio and edit your preferences there.
1. Sign up for WesNet, the alumni portfolio. If you've forgotten your password, you can reset it.
2. Once you've successfully logged into WesNet, you'll need to go to "WesCareer," which is a portfolio for alumni who had Student Portfolios while at Wesleyan. This portfolio provides ongoing access to links to your academic history, financial information and other student settings. Navigate to Other Portfolios →  WesCareer.
3. In the WesCareer portfolio, navigate to Events Scheduling & Calendaring →  Custom Events Email.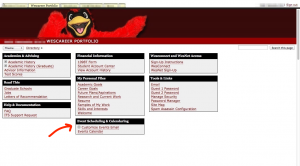 4. Look at your preferences within Custom Events Email. You might want to still hear about some campus events. If you don't want to hear about any on-campus events, select "Unsubscribe" at the top.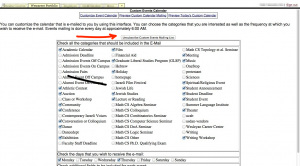 5. Please note that while you may select "Alumni Event On Campus/Off Campus," Wesconnect is the home for most alumni events. To hear more about alumni events, subscribe to the alumni newsletter.
6. Please note that unsubscribing from the Custom Events Calendar will not unsubscribe you from all Wesleyan emails. Please submit a support request if you want to unsubscribe from other kinds of emails.