This page is to assist Wesleyan Alumni Admission Volunteers (WAAV).
To access WAAV or post an interview
WAAV is now part of the Slate system. Please contact waav@wesleyan.edu for access.
To update your contact information
There are two ways to update your contact information with Wesleyan:
By submitting a support request to the Alumni Helpdesk
By logging in to Wesconnect (see screenshot) (forgot password? - sign up - learn more)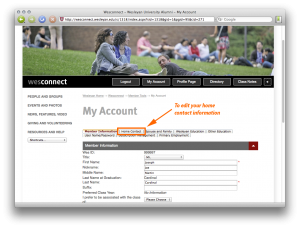 Please note: your Wesconnect username and password are not the same as your Wesleyan username and password. To use Wesconnect you must sign up. Learn more…
Wesconnect support
If you need help accessing Wesconnect to change your contact information, please submit a support request to the Alumni Helpdesk.
WAAV support
For information about the WAAV program, please see the WAAV section of the Office of Admission website, or send an email to waav@wesleyan.edu.